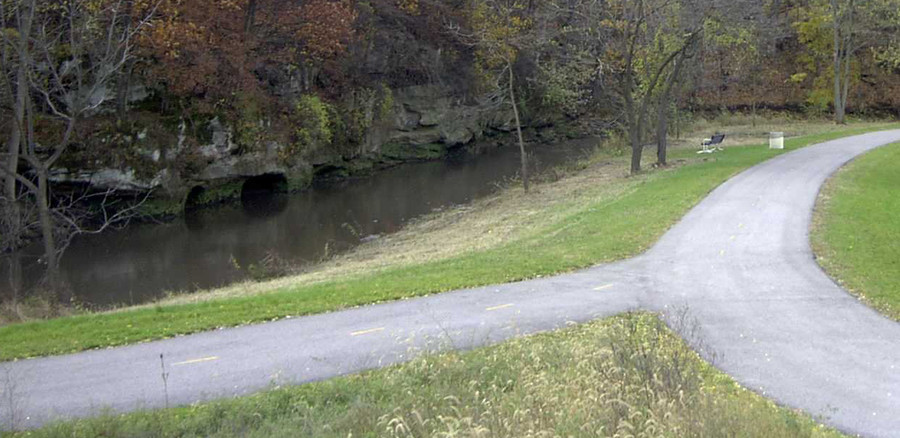 What is QC Trails?
QC Trails is a free, interactive map-focused website developed to encourage area residents and visitors to get more active by making information available about the vast number of trails in the Quad Cities, Illinois-Iowa Region.
The website provides tools to help users find trails that support a wide variety of activities -- from walking paths and hiking and biking trails to paddling/water and equestrian trails. Detailed trail description pages allow users to view the trails, get essential information, submit trip comments and photos, find nearby geocaches, and a whole lot more. Users will also notice the Move More section that provides helpful information on using trails and staying healthy through physical activity.
Where is the Quad Cities, anyway?
The Quad Cities region is located on the Mississippi River midway between Chicago, Illinois to the east; Des Moines, Iowa to the west; Minneapolis, Minnesota to the north; and Saint Louis, Missouri to the south. The region is made up of the riverfront cities of Moline, East Moline, and Rock Island in Illinois, and Davenport and Bettendorf in Iowa. The area also includes many adjacent smaller communities and towns. The total population for the area is over 400,000.
Which trails are included in QC Trails?
QC Trails administrators are working to find and gather information on as many trails as possible. Posting high quality trail maps and accurate information on trails takes time. All posted trails are closely reviewed by QC Trail administrators and trail managers before they are made available to the public to ensure the maps and content are accurate and current. If you don't see a trail you think we should include, let us know. We can't wait to see how the QC Trails website grows!
Who administers QC Trails?
Bi-State Regional Commission staff manages the general oversight of QC Trails, including researching and posting information on trails. Bi-State staff collaborates with countless partners in this endeavor and encourages input from trail enthusiasts and the public. Major project supporters are listed at the bottom of each web page. Trail managers are listed with each trail posting.
The website exists because of partnerships, collaboration, and widespread public involvement. Major project supporters are listed at the bottom of each web page. These financial contributions have been matched in value through significant in-kind support from trail managers, steering committee members, and volunteers who all assisted with promoting the project, GPS'ing trails, organizing trainings, and sharing information about trails.
Why trails on the Internet? I like paper maps.
Trail maps are great and essential, however, finding comprehensive sources on what trails exist in an area can be challenging. QC Trails brings together extensive and up-to-date information about trails in one convenient location. Search tools help users quickly find the right trail for a Sunday afternoon stroll or short-list a handful of trails to be explored during a week-long vacation.
Administrators can quickly edit online trails data when notified by trail managers, and approve those changes so that they show up on the website instantaneously. The ability of trail managers and QC Trails account holders to post announcements and trip reports can help users know what to expect or entice you to choose one trail over another.
Please print out QC Trails postings to bring with you by clicking on the Printer Friendly Version, or contact the trail manager for a paper map.