Trailhead Information
The Duck Creek Parkway trail can be accessed at many parks and trailheads along the 12.2 mile path, including Devils Glen Park and Veterans Memorial Park in Bettendorf and Duck Creek Park, Eastern Avenue Park, Garfield Park, Junge Park, Marquette Park, Northwest Park, and Emeis Park in Davenport.
Description
The Duck Creek Parkway Trail, a hard-surface, separated multiuse corridor, runs parallel to Duck Creek through Davenport and Bettendorf, Iowa. Beginning in Emeis Park in west Davenport, the trail continues to Havens Acres Park in Riverdale. Largely used for recreation, the trail also connects many different neighborhoods to commercial districts, schools, parks, and other major transportation corridors as it runs through the heart of the Iowa Quad Cities Area.
From Devils Glen Park in Bettendorf, a short ride or run on the quiet residential South Kensington Street will connect you to the impressive Mississippi Riverfront Trail.
This trail also includes a fitness station nearby. Genesis Power Sports Performance invites you to take a break from the trail and tackle the Genesis HealthBeat outdoor fitness system, where you can enjoy the best of the gym in the great outdoors. From plyometrics to Tai Chi, the nine-station HealthBeat system provides an outdoor circuit training experience with cardiovascular, strength training, endurance and flexibility benefits. People of all fitness levels can start with exercises shown on the instructional signage at each station, and then create more challenging workouts by varying their activities.
Other Information
Operating Hours
Year-round Hours: Sunrise - 30 Minutes after Sunset
The following rules apply to all city of Davenport parks:
Leash and clean up after dogs
Alcoholic beverages are prohibited without a permit
Motorized vehicles prohibited on recreational trails
The following rules apply to all persons using the recreation trails within Bettendorf city limits:
Bicycle riders shall ride single file on the right. They shall pass only on the left and sound a warning upon approach and pass of other users of the trails. The speed limit for any recreation trail is 15 miles per hour.
Walkers shall walk no more than two abreast.
Dogs shall be leashed and positioned to walk on the grass.
No person shall stop or stand on the path to visit. Baby strollers may be parked on the area adjacent to the path.
Elevation Profile

The elevation profile above approximates terrain along the specified section of trail and is provided for general information. Use your best judgment to choose trails with elevation changes to match your comfort level. See QC Trails Terms of Use for more information.
Trail Managers
Visit the Cities of Bettendorf or Davenport online for more information or contact: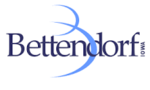 City of Bettendorf, Iowa
Parks and Recreation
Bettendorf City Hall
1609 State Street
Bettendorf, IA 52722
Phone: (563) 344-4113
blovich@bettendorf.org