Trailhead Information
On the eastern terminus the path intersects with the Duck Creek Parkway Trail, a nearly 13.5 mile trail that runs through the heart of the Iowa Quad Cities within the cities of Bettendorf and Davenport. Leach Park is another popular trailhead found on the western end of this segment and is the location of many scenic views of the Mississippi River, a boat launch, fishing, shelters, picnic tables, parking, and restrooms.
Description
This paved trail offers a variety of experiences as it traverses through entertainment, commercial and industrial districts, as well as parks and stretches of natural areas with beautiful unobstructed views of the Mississippi River. Trail enthusiasts can travel upriver along the Mississippi River through Riverdale and continue back into Bettendorf on trail added in 2017. In eastern Bettendorf, the trail crosses Crow Creek on a new bridge and then goes under US-67 to continue on the eastbound widened road shoulder. Continue farther along the Mississippi River on signed, shared roadways.
The Bettendorf section of the Mississippi River Trail is part of the larger 3,000-mile Mississippi River Trail (MRT) System that follows the Mississippi River from the headwaters in Itasca, Minnesota to its delta at the Gulf of Mexico near New Orleans, Louisiana. The trail provides access and connections to neighborhoods, commercial districts, industrial areas, recreational areas, and historical landmarks at the local, state, and national level.
Other Information
The following rules apply to all persons using the recreation trails within Bettendorf city limits:
Bicycle riders shall ride single file on the right. They shall pass only on the left and sound a warning upon approach and pass of other users of the trails. The speed limit for any recreation trail is 15 miles per hour.
Walkers shall walk no more than 2 abreast.
Dogs shall be leashed and positioned to walk on the grass.
No person shall stop or stand on the path to visit. Baby strollers may be parked on the area adjacent to the path.
Elevation Profile



The elevation profile above approximates terrain along the specified section of trail and is provided for general information. Use your best judgment to choose trails with elevation changes to match your comfort level. See QC Trails Terms of Use for more information.
Trail Manager
Visit the City of Bettendorf Parks and Facilities Department online for more information or contact: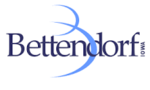 City of Bettendorf, Iowa
Parks and Recreation
Bettendorf City Hall
1609 State Street
Bettendorf, IA 52722
Phone: (563) 344-4113
blovich@bettendorf.org