Trailhead Information
There are many access points and trailheads that MRT (Iowa) trail enthusiasts can utilize. The trail parallels the Mississippi River, and there are numerous trailheads next to or near the road, such as in Credit Island Park, Veterans Memorial Park, LeClaire Park, and Lindsay Park in Davenport; Leach Park in Bettendorf; and parking in Riverdale at South Bellingham St. and State St. (just off of U.S. Highway 67);
Description
The Mississippi River Trail (MRT) in the Iowa Quad Cities extends from the west end of Davenport to Bettendorf on the east. Additionally, a section of the MRT in Buffalo is now on a paved, off-road trail. The trail runs through downtowns, residential areas and historic districts, and passes riverfront parks. Sweeping riverfront vistas are abundant all along the trail in Iowa and also along the MRT in Illinois.
In its entirety, the Mississippi River Trail -- coursing along America's backbone, the Mississippi River, from its headwaters in Itasca, Minnesota to the Gulf of Mexico -- offers approximately 3,000 miles of on-road bikeways and pedestrian and bicycle pathways for the recreational enjoyment, health, conservation and tourism development of river communities, river states, and the nation. The trail provides access and connections to neighborhoods, commercial districts, industrial areas, recreational areas, and historical landmarks at the local, state, and national level.
Other Information
Within the Iowa Quad Cities region, the cities of Buffalo, Davenport, Bettendorf, and Riverdale maintain the MRT and promote access.
Sections of the Mississippi River Trail in this region are also part of the American Discovery Trail (ADT), which traverses the U.S., coast to coast, from California to Delaware for more than 6,800 miles across 15 states.
Elevation Profile
The Mississippi River Trail in Iowa is comprised of many local trails along its route. Please refer to the individual trails that are listed under the section "Show Connector Trails" and view trail postings to see their elevation profiles. [Note: some of these connector trails are trails that intersect the MRT, but are not the MRT route itself.]
Trail Managers
For more information, visit the Mississippi River Trail on the Iowa Bike Routes website or contact local trail managers:
City of Riverdale, Iowa
Riverdale City Hall
110 Manor Drive
P.O. Box 364
Riverdale, IA 52722
Phone: (563) 355-2511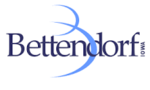 City of Bettendorf, Iowa
Parks and Recreation
Bettendorf City Hall
1609 State Street
Bettendorf, IA 52722
Phone: (563) 344-4113
blovich@bettendorf.org